Studio Solstone Edit
Inside the Pike Place Market Atrium, is a small watercolor shop belonging to Michael and Sarah Yaeger, Studio Solstone. They have been painting in Seattle since 1979. Their calendar of the Pike Place Market is sold throughout Seattle and collected by people from around the world.
Studio Solstone began on the shores of Spain after Michael and Sarah met and married. Their first work together included hand painting small stones collected from the beach at Altea, Spain that they sold at the town's market. Studio Solstone, is a name that reflects that first work, "sol" means sun in Spanish. They began producing their first calendar in Altea. The calendar was so loved by the town that they were asked to produce it even after their departure. Sarah's watercolors of the Market reflect the colorfulness of the community and the activity within the Market. Michael is the honorary mayor of the Market. As such, he officiates over Market events, acts as a political and marketing advocate for the Market, and creates multimedia work in the Market.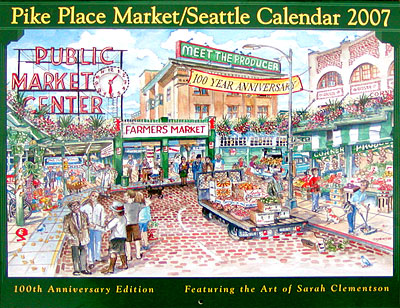 External Links:
Community content is available under
CC-BY-SA
unless otherwise noted.