Seattle has a nice assortment of beaches on Lake Washington and on Puget Sound. Some of these beaches have lifeguards, restrooms, etc, while others are just little strips of sand with not much else. Check the external links for more information on some of the more popular beaches.
There currently is a collaborative movement in Seattle to have more opportunity for clothing-optional use of local beaches.[1]
Lake Washington beaches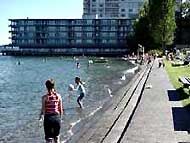 Madison Park beach is located where Madison Ave meets the lake in the Madison Valley neighborhood. There's a nice grassy area for sunbathing, restrooms, and a diving board with diving boards.
Denny Blaine beach

is located on Lake Washington Blvd and Denny Blaine street. No facilities or life guards.
Howell beach

is located on Lake Washington Blvd and Howell Pl. Very small beach; some nudists are not unusual, especially on warm sunny days.
Puget Sound beaches
External Links