Jurassic World: Dominion Dominates Fandom Wikis - The Loop
Play Sound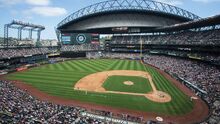 Safeco Field, also known as "The Safe", is the home of the Seattle Mariners baseball club. The stadium seats 46,621, and was the host for the 2001 MLB All Star Game, the 2001 and 2002 Seattle Bowl, and WrestleMania XIX in 2003.
Safeco Field is located in the SoDo district of Seattle, at the intersection of 1st Avenue South and South Edgar Martinez Drive (formerly South Atlantic Street).
History
[
]
On March 30, 1994, King County executive Gary Locke appointed a task force to assess the need for a new Major League Baseball stadium to replace the rapidly-deteriorating Kingdome. Many feared that the Mariners would leave Seattle if a new stadium was not built. In January 1995, the 28-member task force recommended to the King County Council that the public should be involved in the financing of the stadium. The task force concluded that a sales tax increase of .01% would be sufficient to fund the stadium. King County held a special election in September 1995, asking the public for this sales tax increase. The measure was narrowly defeated.
A special session of the Washington State legislature was called and on October 14, a new revenue package was authorized. The stadium would be funded by a credit against the state sales tax, lottery funds, a .3% restaurant and bar tax, special license plates, and stadium admissions tax. The next week, the King County Council voted to approve this measure and created the Public Facilities District, which would own the stadium and oversee its construction.
On September 9, 1996, the site was selected for the new stadium, just south of the Kingdome. In late fall, several members of the King County Council wrote a letter to the Seattle Mariners, stating that they did not believe that public money should fund this project. In response, the Seattle Mariners held a news conference stating that they would either sell the team, or move the team from Seattle. After a public outcry, the King County Council voted to reaffirm their cooperation with the Mariners in building a new stadium.
Construction officially began on March 8, 1997 with a groundbreaking ceremony featuring Mariners star Ken Griffey, Jr. The naming rights to the stadium were sold to the Seattle-based insurance company Safeco. Construction continued until July 1999. The first game was played on July 15, 1999 against the San Diego Padres.
Safeco Field has a unique retracting roof that, rather than fully enclose the stadium as the roof of stadiums like Bank One Ballpark and Minute Maid Park do, only acts as an umbrella for the stands and field.