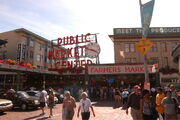 Pike Place market is a large covered market downtown that sells everything from fish, meat and produce to clothes, paintings and tourist trinkets. It is comprised of many different stores, including the original Starbucks, a popular tourist attraction in and of itself for fans of the coffee chain. It is also a farmers market, with stalls after stalls of fresh produce and flowers.
The market is open daily until 5:00 or 5:30pm, depending on the store. It is quite a large area to explore, since it has several small alleyways with additional stores and restaurants, as well a multi-level interior "mall". Parking is available more easily on the Western Ave side of the market; it's not recommended to drive into the market since the crowds make traffic very slow. The market gets lots of people during the day, both locals and tourists, with the worst crowds usually around the midday.
Recommendations Edit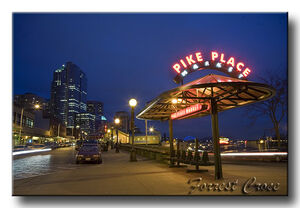 The several fish stands usually have excellent and fresh fish, including a variety of shellfish (like unbelievably-sized lobster tails and prawns). Prices are usually quite high however. Most fish stands will package fish so it will last 48 hours packed, and also ship around the country.
The Market Grill offers excellent fish sandwiches and clam chowder in an informal stand where you can sit if you're lucky (or wait). The staff is friendly and relaxed. Fish sandwiches or platters cost around $8.50.
DeLaurentis, on the south end of the market, offers a huge variety of "deli"-type foods like cheeses from all over the world, hams, olives, pates, and a number of imported European products. They also have a coffee stand.
If you are shopping on the craft lines in the North Arcade and find artwork or crafts that you would like to find again, make sure to ask for a business card. Craftspeople have roll-call every morning and do not have to be open every day. Roll-call is a system for placing vendors based on senority, so they move daily.
The Market's Unique Street Performer History Edit
The Market is one of the oldest Street Performer or Busker venues in the United States and has a long history of this activity beginning in the 1970's. Historic busking figures such as PK Dwyer, Artis the Spoonman, Jim Page, Kirsten Anderberg, Reggie Miles, Baby Gramps, Reverend Chumleigh, the Flying Karamazov Brothers, have all performed the streets of the Market.
External Links Edit