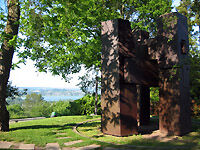 This 7.2 acre park is located just north of Volunteer Park on Capitol Hill. While not as widely known as the major city parks, Louisa Boren Park is a favorite among many locals because it remains mostly untouched by landscapers and tourism and is considered one of the best green spaces left on Capitol Hill.
The top of the hill is a lookout with an idyllic view of Union Bay, Lake Washington, and the eastern suburbs. A narrow unpaved path edged with blackberry vines leads gradually downwards into a basin tangled with trees, mushrooms, and wild plants of all sorts, but has been closed since 2010 due to a lack of park funds and volunteer assistance.
History
[
]
Five acres of the Interlaken Park area were set aside as Boren Park in 1913 to honor Louisa Boren Denny, one of the pioneers that landed at Alki in 1851.
How to get there
[
]
The park is located near 15th Ave. E and E Olin Pl just north of Volunteer Park. Across the street from Lakeview Cemetary is an overlook. Look for the entrance to the path. The path winds and twists and eventually lets out on Interlaken Blvd.
External Links
[
]
This article is still a stub and needs more content.
Please contribute if you can.