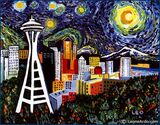 Leone Ardo (born Bekka Jaren, August 30, 1943) is the founder of the famous Bekka Mt St Helens Ash Sculpture company. She hand sculpted over 400 designs and the company reproduced and sold 100's of them every day for close to 20 years.
Many of her sculptures sold through Seattle's Pike Place Market where she still works today as a popular painter.
Leone Ardo was born in Aberdeen, Washington where she grew up with two older sisters and one younger brother.
Also known as Bekka Jensen, Bekka Smith, Rama Bekka, Rama (no last name), and Leo (no last name)
Community content is available under
CC-BY-SA
unless otherwise noted.