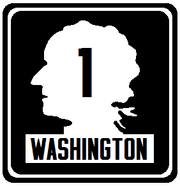 Highway 1
or
State Road 1
and
Primary State Highway 1
was the predecessor of
Interstate 5
,
State Route 522
(SR 522) and
State Route 99
 (SR 99). It existed from 1926 to 1970 and followed U.S. Route 99 through its entire length in Washington state and later did the same with I-5.
In 1926, the Pacific Highway Auto Trail was redesignated US 99. State Road 1 was also designated along the auto trail's path in Washington at this same time. In 1933, SR 1 became Primary State Highway 1 and was signed along its entire route. PSH 1 later spawned branch highways and secondary state highways (SSH) in many areas in Washington, including Seattle. The historical branches in Seattle go as follows:
SSH 1J (now SR 513)
SSH 1K (now SR 509)
PSH 1-EP (Evergeen Point Branch, now SR 520)
PSH 1-WM (West Marginal Branch, now part of SR 99)
In 1957, pieces of US 99/PSH 1 became part of the new I-5. Other new sections of PSH 1/US 99/I-5 were also under construction at this point. Futher changes occured in 1964, when Washington adopted a new state highway system. PSH 1 was now joined by SR 99 (the state's new designation for US 99) and SR 5 (the state's new designation for I-5). The I-5 portions of the highway now carried the designations I-5, US 99, PSH 1, SR 5 and SR 99. The non-I-5 portions carried the same highways minus the I-5 designation.
In 1967, US 99 was completely de-commissioned in Washington state and was now relegated to being the present day SR 99 from Fife to Everett. Due to this, PSH 1 no longer followed SR 99. However, unlike US 99, PSH 1 continued to exist in Washington State along I-5's entire length. Finally in 1970, Washington eliminated the old state highway system and caused PSH 1 to fade into oblivion with its former running mate.
Today, SR 99, I-5, US 12 and many other highways follow portions of the now-defunct Highway 1.
Community content is available under
CC-BY-SA
unless otherwise noted.