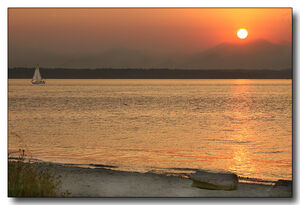 Golden Gardens is a beach front park located in the Ballard area of Seattle. The park features a long sandy beach with a beachouse, picnic shelters and grills, and a wetland area on it's North side.
The park was developped as an amusement park in the early 1900s to draw city dwellers out to the suburbs via the new street car lines. It was funded by property developpers who hoped to sell property long the street car lines to the park-goers. The park was eventually sold to the city. At present the park is accessible via Seaview Ave along the waterfront. Originally though, the area South of the park was tidelands, and access to the park was from Loyal Heights via the winding road that still connects the park with NW 85th St. at the top of the hill.
The park is a popular destination for group picnics and for evening beach fires on summer weekends.
External Links
Edit
Community content is available under
CC-BY-SA
unless otherwise noted.