Broadway is a major north/south arterial on First Hill and Capitol Hill.
Generally speaking, the Broadway District refers to the six block shopping strip along Broadway East, between E Denny Way and E Roy Street. It is an area of trendy boutiques, restaurants, and fast food eateries.
The Broadway District was once considered the center of Seattle's GLBT community. Seattle's annual Gay Pride Parade was held on Broadway from 1974 until 2006, when it was moved Downtown. The GLBT population has, since the 1990s, gradually shifted away from The Broadway District.
Broadway Establishments
Edit
Street Improvements
Edit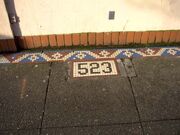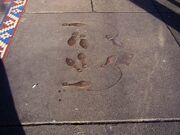 In the early 1980s, The City of Seattle needed to do major electrical work in The Broadway District, and tore up Broadway in the process. Seattle's arts commission, headed by program manager Patricia Fuller, used the opportunity to create public artworks. Traffic lights were turned sideways and affixed to decorative brackets. Colorful tiles now line the sidewalks, incorporating street addresses into the tilework. Artist Jack Mackie was commissioned to create Dance Steps, a series of eight dance steps along the sidewalk, diagrammed in bronze and set into the concrete.
(Because businesses have changed in the past twenty years, the tiled addresses don't always line up with doorways anymore. The dance steps on the northwest corner of Broadway E and E Republican Street have a coffee bean pattern in them, because a Starbucks used to be there.)
In 2005, Mayor Greg Nickels proposed a plan to alter the zoning regulations of The Broadway District. The plan would raise the building height limit from 45 to 60 feet. The idea is to encourage development and reverse the growing number of vacant buildings on Broadway.
Community content is available under
CC-BY-SA
unless otherwise noted.