The Alaskan Way Viaduct is a section of Highway 99 that crosses through the waterfront. It is one of the two main roads that are mostly used in Seattle along with Interstate 5. It starts down below the SoDo district and ends at a tunnel above downtown.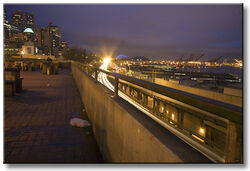 Controversy
Edit
It is very dangerous due to the high risk of collapse during an earthquake. An earthquake similar to the Nisqually Earthquake could pancake the viaduct crushing many cars due to its high traffic. So in other words, it's a deathtrap.
But if you're a person who likes to gamble with their life, the viaduct provides a good route to get in or out of downtown to the rest of the city. It leads to and from West Seattle though the viaduct itself doesn't go that far.
On the other hand, many hesitate to rebuild the Viaduct or explore other means of transporting people. A large group of Seattlites find the view while driving gorgeous and don't want that to change.
This article is still a stub and needs more content.
Please contribute if you can.
Community content is available under
CC-BY-SA
unless otherwise noted.